Woodfast 12" Sander

Review and photos: John Madden
In my furniture work I employ a variety of angled butt joints. Using a pull saw to cut the sections they often need a touch up so the surfaces land squarely on the opposing section. An inverted belt sander has served me well however I decided it was time to buy a dedicated disc sander.
There are three basic things to consider when purchasing such a tool: alignment and momentum of the sanding disk, dust extrac- tion and table adjustment. My usual three-step quality control procedure gleaned satisfactory results. First I picked up the machine to test overall weight – yes I can assure you that it is heavy. Next I let the sanding wheel spin and watched for any deflection – the wheel seems to run true. Finally to test the momentum of the sanding disk, I pushed a folded business card against the rotating disk surface – the card was shredded and the disk had enough momentum to keep spinning.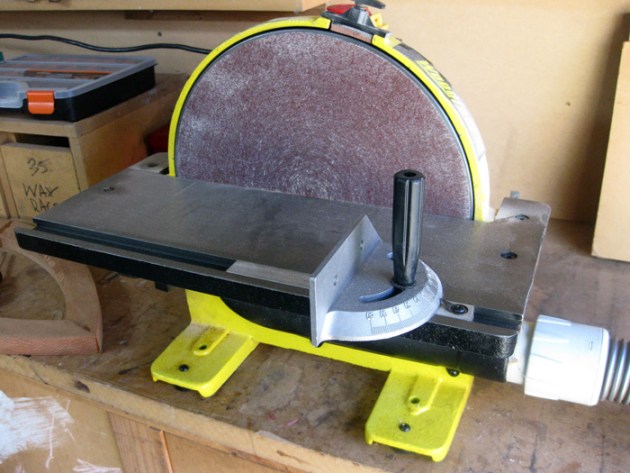 Dust extraction is conveniently located at the front of the unit and will accept my Festool 60mm vacuum tube with ease. The table is of cast metal and features a sliding mitre gauge. Incorporating an angle adjustment wheel with an integrated locking toggle, the table angle is easily changed and locks firmly in position. Finally and best of all, the packaged sander fits nicely in the boot of my car, time to head home.
Back in my workshop I unpack my new machine. The sander is operational straight out of the box, doesn't require fixing to the bench and runs reasonably quietly. The cutting motion is predictable and no speed is lost when load is applied to the sanding disk.
Happy with my acquisition I am back to work building a rosewood mirror featuring 12 butt joints of varying angles. Being a neat and compact unit the sander sits right up by my workbench where it is easily accessible. This economical machine will no doubt improve the quality of my work and save hours of precious time.
Available from Woodworking Machinery Plus at www.woodworkmachinery.com.au