Virutex CE53S Edge-Lipping Planer

Words and photos: Damion Fauser
There are several ways to flush solid wood edging down to veneered panels. One quick and accurate way is with a very clever handheld power tool developed by Virutex.
The Virutex planer is a slight variation on the handheld planer. The cutterblock is on the edge of the machine, offset from and independent of the sole of the machine. The sole then acts as a reference point, running on the face of the veneered panel. The sole is teflon coated, meaning the tool will glide over the surface without risk of scratching the veneer.
The cutterblock can be raised and lowered to determine just how close to the surface you will cut. Adjustment is continuous with no minimum and therefore can be set and then locked to cut the edging perfectly flush with the surface. You do need to carefully consider the species and quality of edging material before deciding on the depth setting. Careful planning when machining and gluing will also allow you to cut with the grain direction, further minimising the risk of tearout.
The cutterblock is driven by a powerful 1300W motor and has two straight carbide knives. It is comfortably able to remove 2mm in depth of material in one pass and leave a clean surface. Maximum cutting depth is 3mm. If you have more than 2mm to remove, it's better to make several passes, changing the cutterblock position in between. The cutterblock is able to cut 55mm in width, so even wider edging stock, such as the framing on a tabletop, can be trimmed down with ease. Replacement blades are $21 per set.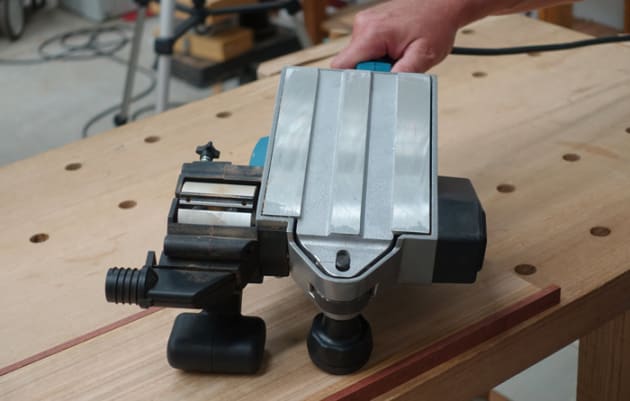 Like all handheld planers, chip extraction is important and the tool has a port located right near the cutterblock for easy and effective shopvac extraction. This is a deliberately heavy tool at 6.5kg. This is to minimise vibration in use and the design cleverly
has the centre of gravity focused away from the cutterblock side, reducing the risk of the tool tipping off the surface and biting into the panel. Another nice touch is the electric brake, which brings the motor to a standstill very quickly, allowing you to move on more efficiently.
This is a single purpose tool that at $745 will not be justifiable for everybody. For those in fast-paced manufacturing shops who work with a lot of veneered panels, it could however save you a lot of production time. My friend, owner at QDoors Manufacturing, bought one of these at AWISA 2015 and tells me that it has since seen daily use in his factory. This was in fact the tool loaned for this review. I was so impressed that I've since bought one myself and regularly use it to great effect.
Available in Australia from Beyond Tools, www.beyondtools.com.au and Gregory Machinery, www.gregmach.com