Review: Nova Viking DVR 16" benchtop drill press

This is a compact and advanced unit, with direct drive motor and intuitive control panel.
Review: Damion Fauser
This new offering from Nova is an amazing machine. Compact and powerful, the direct drive motor means the head unit of this machine lacks the large and cumbersome nature of more traditional units as there are no pulleys or belts. Consequently, this press will take less room on your bench.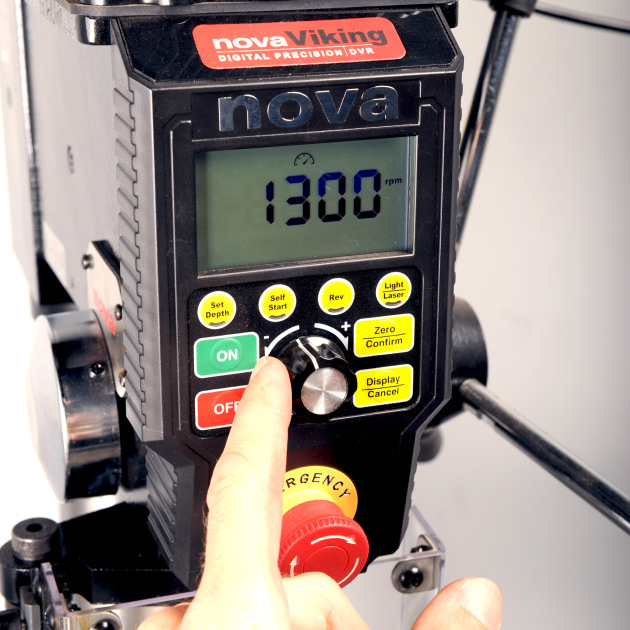 Bright LED to illuminate the work area.
With a 1hp motor, 406mm swing, 114mm stroke and 321mm spindle-to- table range, this unit compares well to other benchtop units. Where it stands out is the rpm range, with a very low minimum of 150 through to a factory preset of 3000.
For those doing high speed cutting in some metals, this can be re-programmed up to a very impressive 6000rpm. Speed adjustment is simple and quick by turning the dial on the control panel. It also features a 5/8" chuck (1–16mm) which is certainly a standout feature for me. The user can choose between light, laser or both operating simultaneously, which is a good feature.
Simple speed adjustment – no belts or pulleys!
But this is all just routine reporting of standard mechanical specifications. Where this machine really stands out for me is its technological and electronic advancement over traditional units. This machine is loaded with features to make it safer, faster and more accurate to use.
The self-start feature can be activated to make the machine start once the quill has been lowered a preset distance down from the resting position. This essentially frees up a hand where needed.
Large 16mm quill, safety guard and adjustable laser.
The depth stop can be set electronically, with a fidelity of 0.1mm if desired. This depth is referenced off the 'zero' position, which can also be calibrated at the position where the tip of the chosen drill bit touches the surface of the material to be cut. Dial in the cut depth, start the machine and commence your cut. As the desired depth is approached, there is visual cueing on the display and audible warnings to inform the user. Once the depth is reached, the machine stops and gently reverses the quill for a number of rotations to ensure the bit doesn't bind in the hole. There is also a traditional mechanical stop that can be used in conjunction for some insurance.
Also with electronic braking, a USB port for updating the firmware, an intuitive and brightly lit control panel, fully customisable programming, and a reversing spindle option, this machine is loaded with features that will make most presses seem antique.
The Nova Viking DVR 16" is extremely well priced for what it can do for the user.
Damion Fauser is a furniture designer/maker who lives in Brisbane.
Learn more at www.carbatec.com.au/nova-viking