Henry Eckert Marking Gauge System

Review and photos: Raf Nathan
This is a beautifully designed and built tool made in South Australia by Henry Eckert Toolworks. It has a round cutter and the fence is figured manna gum with a 5mm thick brass wear plate (photo 1). The metal body and fittings are made from turned brass with stainless steel fittings.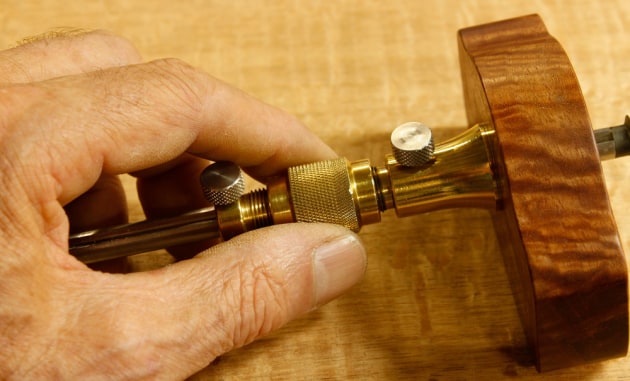 A steel rod running through the fence has a threaded end that holds the cutters with an allen screw. Remove the cutter and you have the option of attaching various accessories. The micro-adjustment mechanism, an upgrade over the standard tool, is excellent (photo 2). It's a great design with a thumbwheel that operates two oppositely threaded turned fittings.
To be honest I prefer fixed knife marking gauges but I know plenty of others who only use round cutters, and on soft wood the round cutter does give a cleaner mark. The Henry Eckert round cutters are made of PMA11V powdered metallurgy tool steel which should give long edge holding.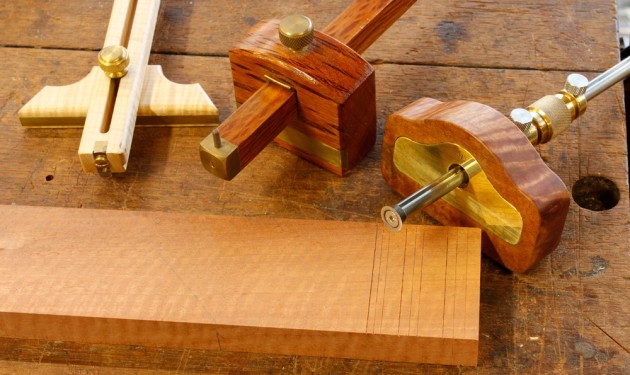 I lined up HE, Hamilton and Wilke kit cutting gauges and tried some comparative marking. On the left in photo 3, the Wilke is the clearest with a standard knife cutter, the Hamilton with its fine wide blade is to the right. In the middle is the HE with a clear mark. Bear in mind that these markings are on hard jarrah.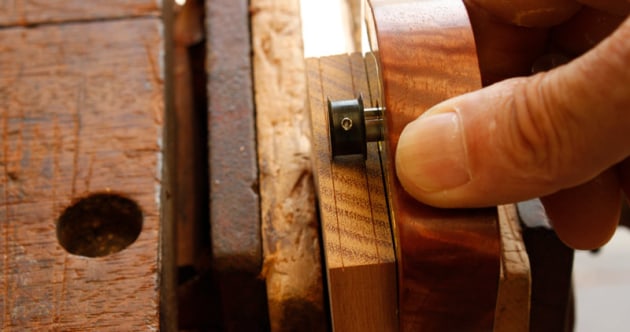 Accessories include fixed width mortise cutters (photo 4). These attach with a tiny allen screw onto the rod and come in 6, 8, 10 and 12mm widths. With the micro-adjust you can dial in a mortise setting accurately.
A pencil gauge is an option. You can't mark less than 20mm in from the fence but it works very well, and a pencil gauge is definitely an underrated tool.
Manganese bronze trammel heads can fit on the rod if you want to use it for checking diagonals and similar measuring tasks. Use one trammel head and the pencil gauge and you have a compass.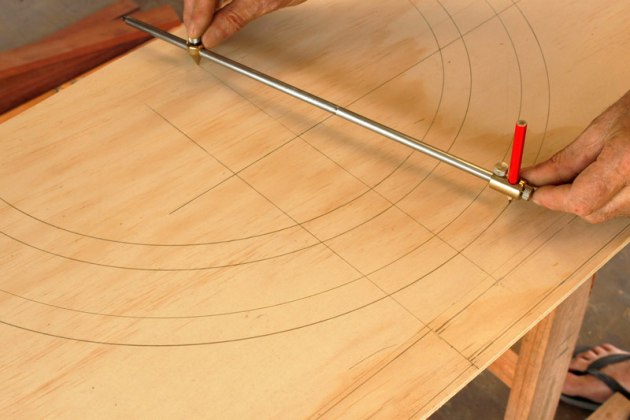 Extension rods can screw into the end of the rod and can extend to 1000mm. In compass mode you can draw circles from 50mm up to two metres in diameter (photo 5).
The thick brass wear plate does sit slightly proud of the wood fence. In panel marking mode you do need to concentrate to keep the fence pushed flush with the workpiece. Personally I think it would be better to have this brass plate flush with the wood.
For the money the base model this is excellent value for such a quality tool. Spend more and you get the micro- adjust which is the best option. The rod extensions, pencil attachment , trammel, and trammel gauge are all great value for money and extend the tool's use.
Review tool and information from Henry Eckert Toolworks www.thetoolworks. com.au