Henry Eckert Honing Guide Mk II

Review and photos: Liam Thomas
This review could have easily become a treatise on honing guides; their role in hand tool use and sharpening. The topic is a well trodden road, often full of unyielding ideas so instead let's talk about my work, that is the day to day life in a furniture making
and restoration workshop.
I freehand sharpen my Japanese tools but for everything else I use a honing guide. Why? They offer consistency, day in day out and for a commercial workshop like mine that uses hand tools on a regular basis a honing guide is an invaluable tool.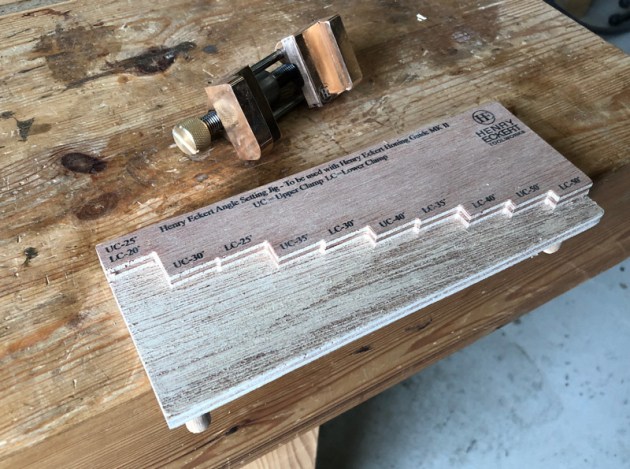 This latest offering from Henry Eckert is an upgraded version of the previous model, both side-clamping guides based upon the venerable but now long out of production Eclipse honing guide. I have two of the original Eclipse models in my workshop and have used the predecessor to this guide so it was an interesting experience putting the new offering from Henry Eckert Toolworks through its paces.
Made in Adelaide, the gunmetal bronze jaws are CNC milled in pairs to ensure accurate and efficient clamping. The polished cast bronze gives a real sense of quality to this tool and is a nice improvement on the Mk I guide's aluminium jaws. Tightening of the jaws is done by hand and the stainless steel threaded rod has a silky smooth feel to it, again a noticeable difference compared to the Mk I.
Again stainless steel is used for the 12mm bearing, coupled with a sintered bronze bush for increased corrosion resistance, a simple but important inclusion for any waterstone user.
I tested the guide on a number of blades, my widest plane iron, the thickest; an old, truly bevel edged, Sheffield cast steel paring chisel; down to my smallest 3mm chisel. The hand tightened gunmetal jaws held each tool securely without a hint of movement. Combined with the additional and revamped bevel setting jig ($19), a number of different angles can be quickly and repeatedly set.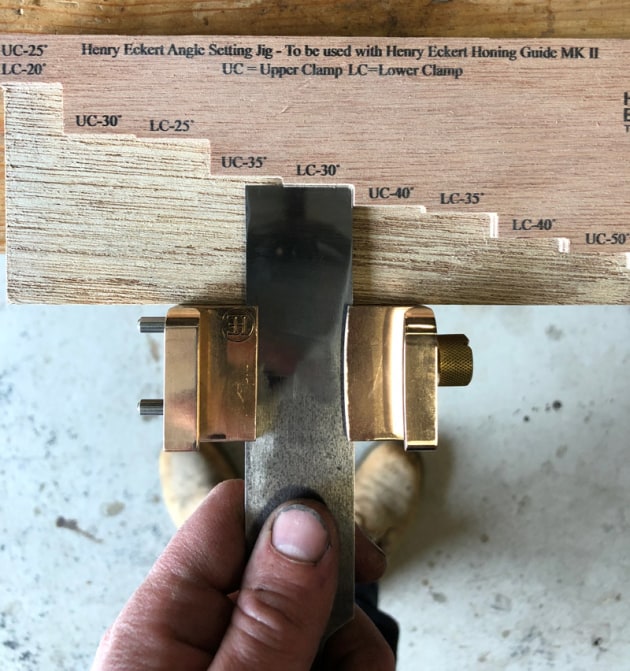 There are three clamping positions in the jaws which as far as I know is unique to this type of tool. The top will hold your everyday and not so everyday plane irons. The lower jaw, which when compared to the Mk I one version has much larger dovetailed sides that securely clamp all types of chisels, especially firmer one, not a strong point of the original model. The new middle jaw is designed to hold thin paring chisels 3–6mm wide.
While the design doesn't stray too far from the Eclipse model, the refinements in finish, hefty feel and improved ease of use over the original Mk I make this an enjoyable and accurate tool to use. However I feel that the most important aspect of this new Henry Eckert guide is that it's made right here in Australia.
Australia can now add honing guides to the list of fine tools made locally, the new Henry Eckert honing guide is genuine competitor in a field previously dominated by the big two North Americans. I freely admit to owning a wide range of tools from the world over but when a good quality option is available locally, I'd pick that one any day.
Review tool supplied by www.henryeckerttoolworks.com.au