Caleb James Scrapershave

Reviewed by Damion Fauser
Caleb James is a maker of fine hand tools based in Greenville, South Carolina, USA. Focussing on wooden-bodied traditional tools, one of his latest developments is a tool he has dubbed the scrapershave. Essentially a member of the spokeshave family, this tool has the blade mounted in a perpendicular fashion to make a scraping cut akin to a card scraper, as opposed to the shaving cut taken by a standard spokeshave.
I make a reasonable amount of curved components that I shape by hand. What I've found, particularly in our Australian hardwoods, is there is always one or more points along the curved profile where the grain shifts and it can be troublesome to achieve a clean surface with a spokeshave alone, so I immediately saw the potential in this tool and placed an order.
Throughout his trials and development Caleb kept me up to date with his progress, including successes and hurdles, so I know this tool has undergone significant refinement through various iterations.
A single piece of hardwood is shaped to form the body of the tool and the mounting hardware is a piece of machined brass that locks the blade firmly in place with two knurled brass lock nuts. The sole of the tool is quite narrow at approximately 15mm and has a slight radius, allowing it to reach into shallow concavities.
The ergonomics of this tool are incredible. Whilst asymmetrically-shaped from front-to-rear, the scrapershave is equally comfortable to hold and use in either direction. Furthermore, Caleb has cleverly designed the tool so the blade is held perpendicularly, meaning the blade can be reversed if needs be.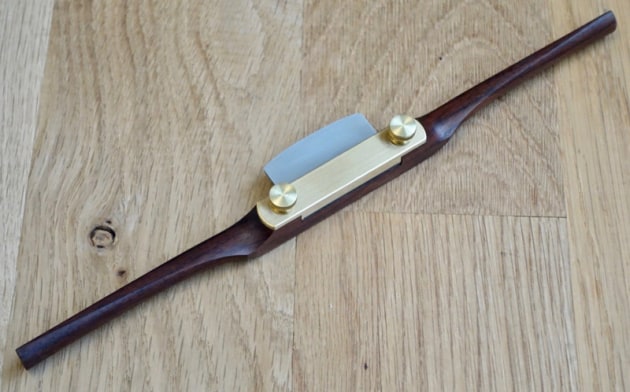 The O1 steel blade is 2mm thick and is a little short to be held in most honing guides, but I do not see this to be a major issue as the 45° primary bevel is so small it requires so little metal to be removed for sharpening that a few careful strokes by hand are all that is required. Caleb designed this tool to be operated without turning a burr, but there is sufficient room in the mouth of the tool should you wish to experiment with this. Since receiving mine late last year I've trialled it on jarrah and hoop pine and it performs exactly as advertised. I am confident it will see regular use in my work.
Available in persimmon and East Indian rosewood (although this species was recently listed under CITES and may not
be able to be exported for much longer), this tool is very reasonably priced for the materials used and quality of the build. If you like to shape curved components with hand tools this will be a very useful addition to your tool set.
Review tool supplied by author. Available from calebjamesmaker.com