Words: Rachelle Leaver, Secretary and Sponsorship Coordinator, The Australian Woodturning Exhibition
Photos: Eastern Photographic Society
Turners from across Australia and New Zealand surpassed all expectations to bring together 369 exhibits for display at The Australian Woodturning Exhibition, which took place in Nunawading, Victoria June 17–19, 2016.
Every year we believe that we have reached the pinnacle in design and creativity just to be marveled at what is produced for judging in the show.
Our judges had a tough year sifting through the many exhibits but were in total agreement as to the Best of Show sponsored by Dremel, which once again went to Jim McConnachie from Queensland for his amazing laminated/built up made of Red Cedar and finished with lacquer, which was so outstanding, that he has now held this coveted position for two years in a row. The craftsmanship on this winning piece is remarkable and despite the number of wonderful exhibits it stood out in the crowd.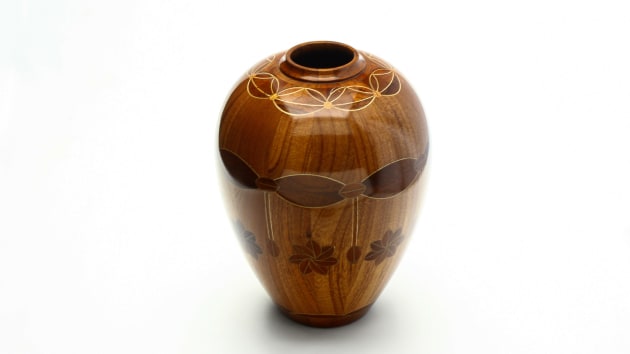 The Best Intermediate Prize went to Ernest Hunt for his Turned Spheres suspended in Frame made from English Ash Boree. A close up view of this work demonstrates his outstanding talent in producing a piece of art that is amazing in its intricacy and fragility and, as we are seeing more and more, the use of a variety of techniques in one piece of work.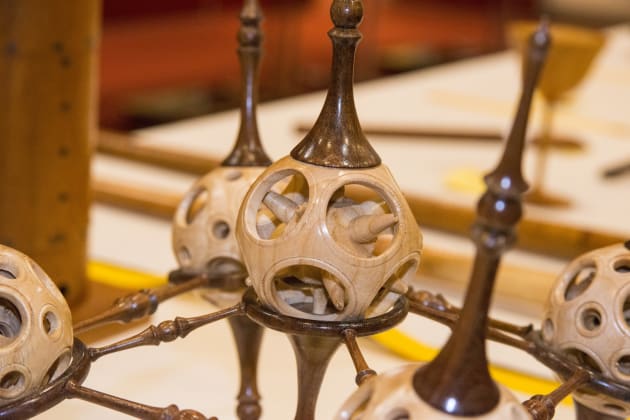 This year we were pleased to present two other 'Best of' prizes. These prizes were donated by our sponsors with the idea of encouraging turners who cannot compete for the Best of Show but recognises items that have pushed the artists to their limits and we hope help and encourage them to surpass their own aspirations.
Firstly, the Best Novice, which was sponsored by Tormek. Two exhibitors won this equally. Lindsay Rotherham won for his outstanding vase entitled Natures Vase made of camphor laurel. Not content with just showing off his turning skills, Lindsay demonstrated how to turn an ordinary vase into something extraordinary using his skills in cutting out to produce the outstanding work of art shown below.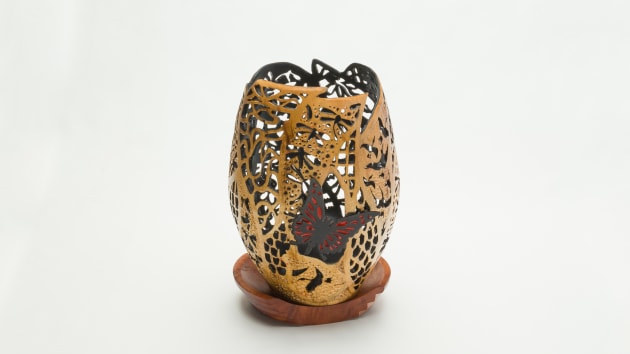 Eric Hillier also placed as Best Novice for a truly beautiful carriage clock made of redgum and jarrah and finished with Danish oil that bore all the hallmarks of top quality turning. The lines and finish made it a worthy winner of this prize. Thanks to Tormek who graciously donated two T4 sharpening tools so that both winners can ensure that they keep their tools in the best condition. Eric Hillier's piece also attracted The Encouragement Award, sponsored by U-Beaut, to celebrate a novice turner that demonstrated the most promise. U-Beaut presented Eric with a ticket to the Philip Island Down Under Turn Around weekend in September. We hope that Eric picked up a lot of tips from the masters that attended!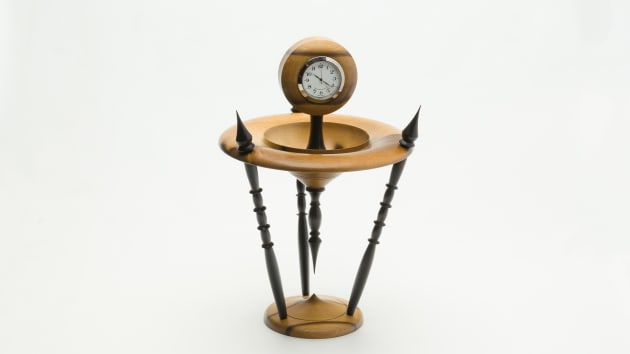 Two pieces of wood art also received accolades. Timbermate sponsored two Best of Wood Art awards. The first award was a competition between the open and intermediate wood art entries. John McBrinn won this for his fantasy piece called Beyond Space and made from purpleheart and US maple. This piece used a variety of techniques from spindle turning to built up and wowed the crowd with its vivid colours.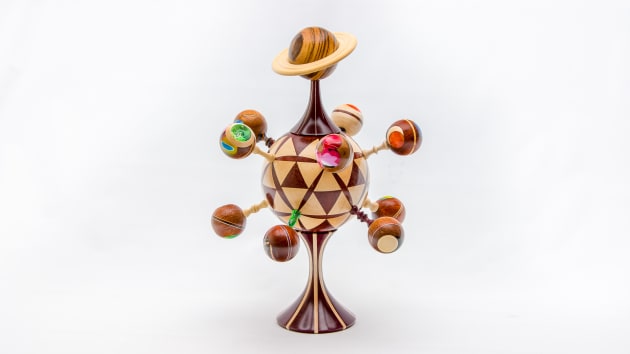 In the Novice Section, Lindsay Rotherham won again with his piece entitled After Fire. It represents the bush fires and one could be fooled into thinking that the wood had been burnished. However, it is his understanding of wood grain that allowed him to give the impression of burnt trees. A worthy winner indeed.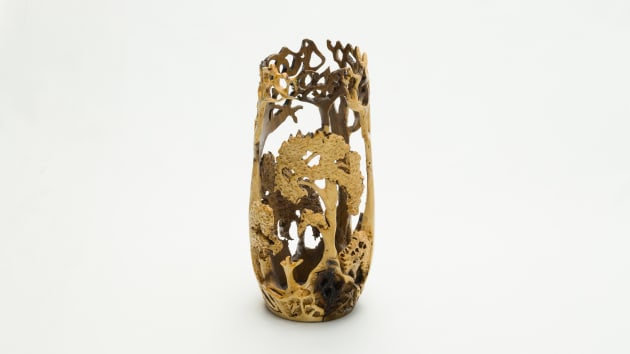 Dremel was also keen to encourage more students to participate this year by presenting a starter kit to the Best Student. This was won by Aiden Bonar of Haileybury School for a superb lamp that gave us an outer space feel with its rocket shape and cut-outs that were reminiscent of stars. With tutelage from Stephen Hughes, our very own open contender, it is easy to see why the judges chose this piece. Well done Aiden.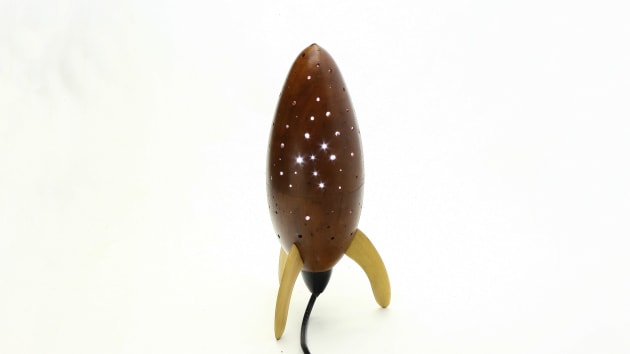 The coveted Peter Robson Award went to Brendan Stemp for his miniature lidded container entitled Crab Box. This delightful piece, which could fit into a 50mm square box, made of blackwood and finished in NC lacquer, not only won this award by also captured the Best Acacia Award in the Open Section.
We were delighted to see a number of newcomers enter for 2016. One of note swept the board with his highly artistic entries. Jay Osman not only wowed the judges but attracted a lot of attention from visitors with his outstanding entries.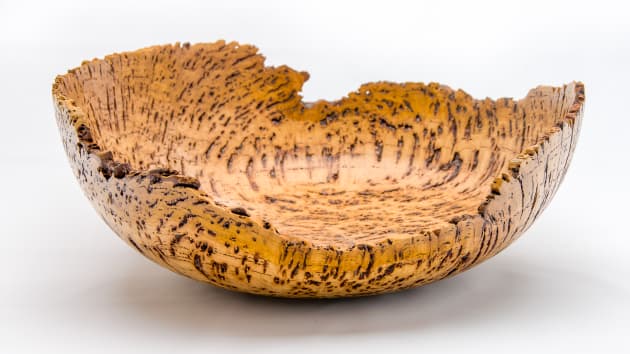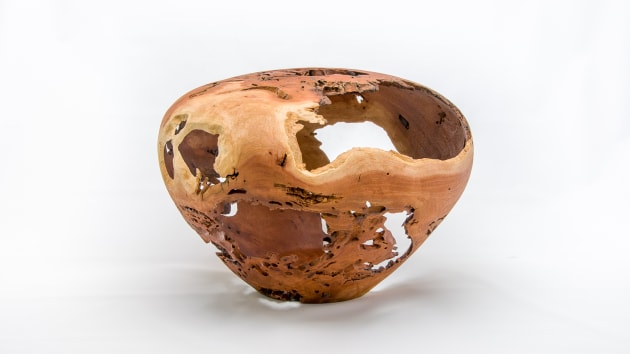 No doubt we will be seeing Jay again in 2017 but he will be joining the ranks of the Intermediate Section.
Another Novice that stood out in the crowd was Tracey Malady from NSW, who won four firsts in the following categories – Laminated/Built up, spindle turn, Miniature and Lidded Container. We hope that Tracey will also take up the challenge to move into the Intermediate Section as she certainly is a worthy contender.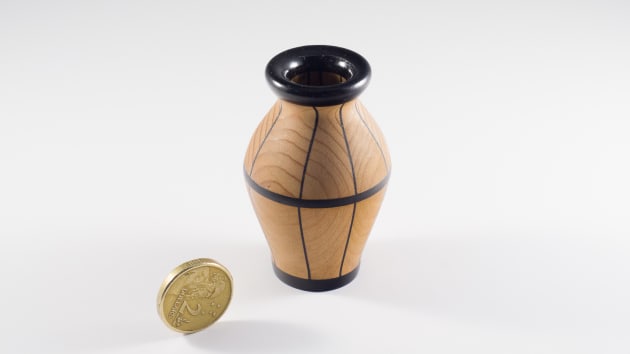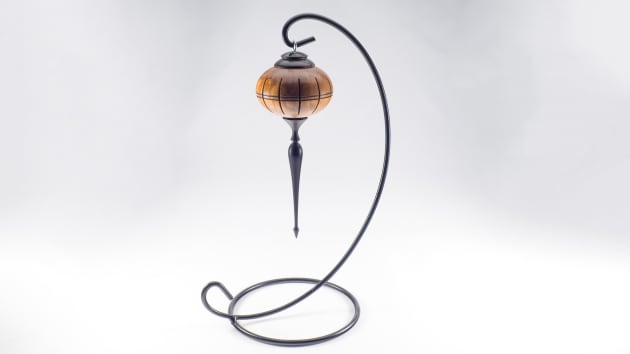 Our very own ex-President, Ray Dennis, was able to find time to get into the shed this year, which running the show did not allow him to do for many years. We were delighted that he was the recipient of an equal first in the Novice Novelty section with his Penny Farthing made of jarrah and finished with Livos oil. It was a worthy winner and we hope that now that he has time on his hands he will be a regular contributor!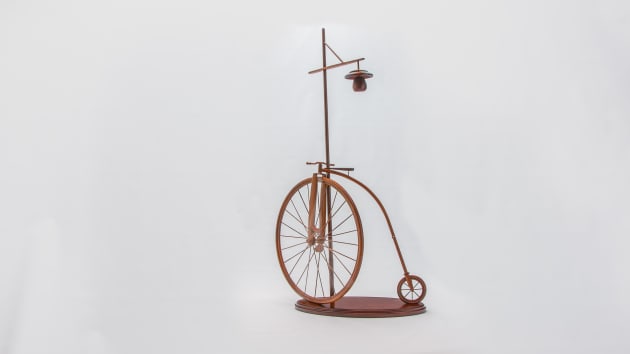 Don Kelman took the Best Eucalypt and first prize for an Item with a Natural Edge and Acacia Award and first prize for a Vase in the Intermediate sections. This has pushed Don up into the Open Section and now he doesn't feel so confident as he has to compete with some true heavyweights.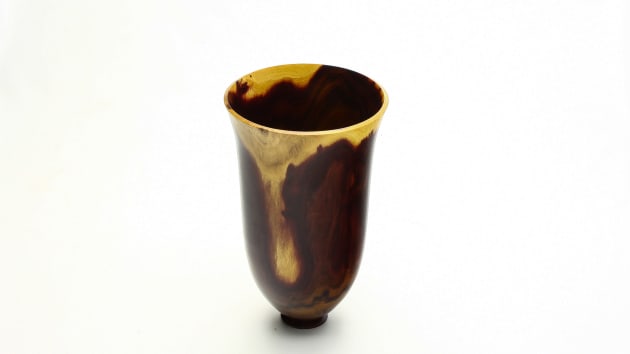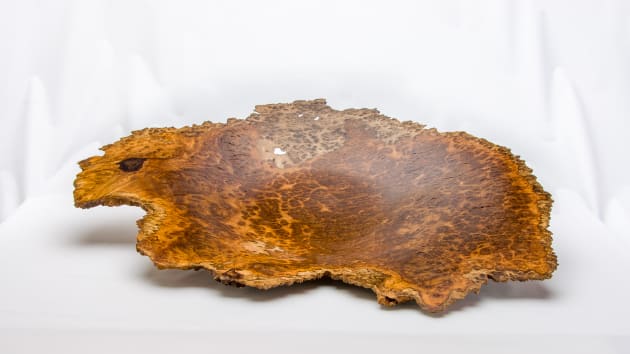 Joining Don in moving up to the Open Section will be Vince Rush from NSW who provided us with some amazing winners such as the green-turned and textured bowl in red mahogany shown below.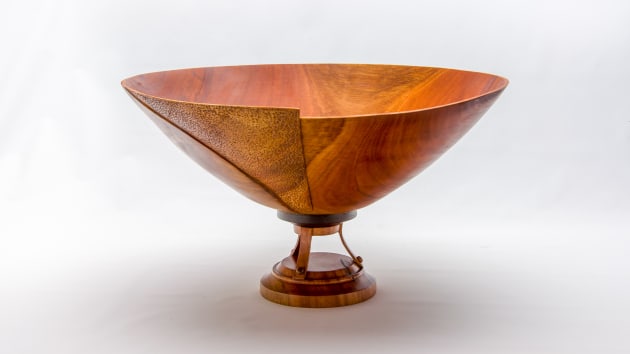 Vince Rush's bowls of turned and carved maple (below) and jacaranda (below that) were two more examples of excellence.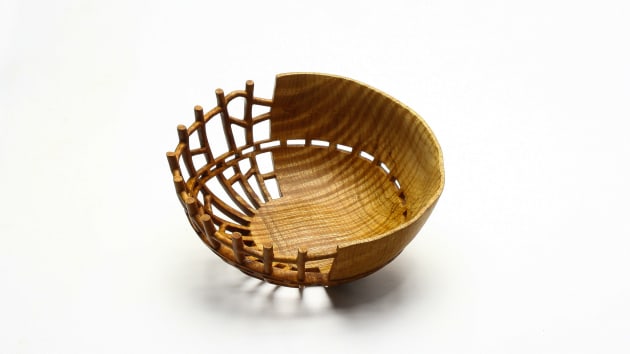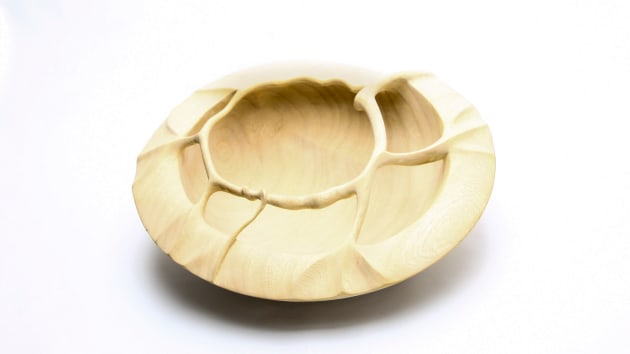 The examples of work shown in this article are just the tip of the iceberg. For 2017 we are pleased to announce our move to a bigger venue which will allow us to do justice to the incredible work that AWTEX presents year on year. A larger venue will now allow us to add live demonstrations and sponsor displays.
We would like to thank the Whitehorse Council and the staff at the Waratah Rooms for their support over the years and look forward to working with the The Kingston Council and the Kingston City Hall.
Click on the images in the gallery above to see a larger view and to read captions.
The new venue for 2017 is Kingston City Hall, 985 Nepean Hwy, Corner of Nepean Highway and South Road, Moorabbin.
Dates for the 2017 show are June 16–18, 2017. See www.awtex.com.au for more information.