Visiting Popular Woodworking magazine's annual Woodworking in America event was an opportunity to not only partake of a program of talks and demonstrations, but also to interact with, and buy from some of the new generation of hand tool makers that has proliferated in the last decade.
WIA is a three day conference that this year ran from September 16 to 18 and was held at the Northern Kentucky Conference Center. A total of 44 sessions were presented by 19 woodworking and toolmaking experts with only a few topics running twice. Conference attendees had the luxury and dilemma of choosing between six topics at any one time.
Christopher Schwarz is well known for his blogs for Popular Woodworking magazine and his own Lost Art Press site. Schwarz's presentations drew from his recent research and writings. 'Nails and the Decline of Western Civilization' discussed the recent loss of quality and respect for this critical and now overlooked fastener.
The basis of his talk 'The Roman Bench: How does it work?' was his remaking of two ancient workbenches. Brought back to physicality, the logic of their construction and associated functionality was discussed.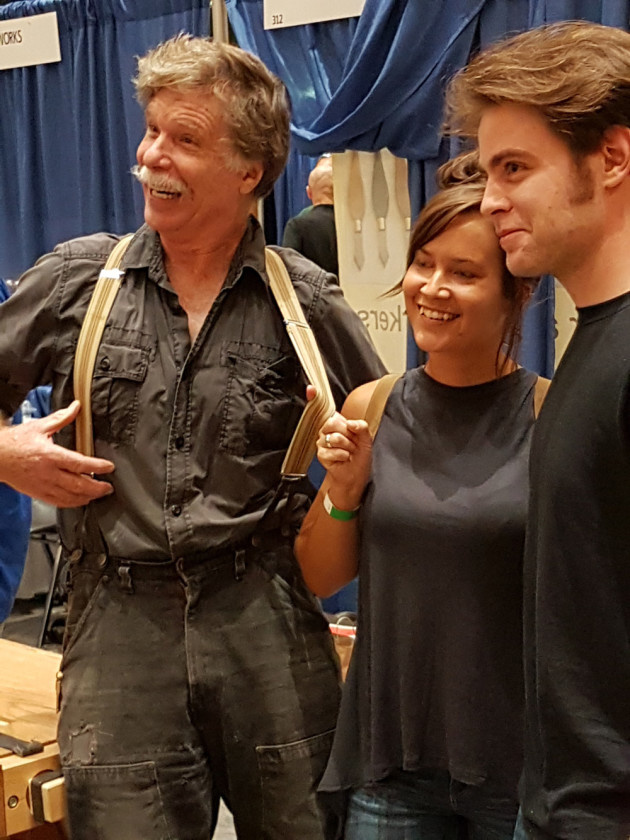 Also at the top of the bill was Roy Underhill (above left) who is well known in the US via his books, videos and television appearances over a thirty year period. His explanations of traditional 'woodwright' skills have delighted and entertained more than one generation of woodworkers. Roy's presentations on coffin making and 'Groovin on mitred boxes' packed out the 200 seat rooms.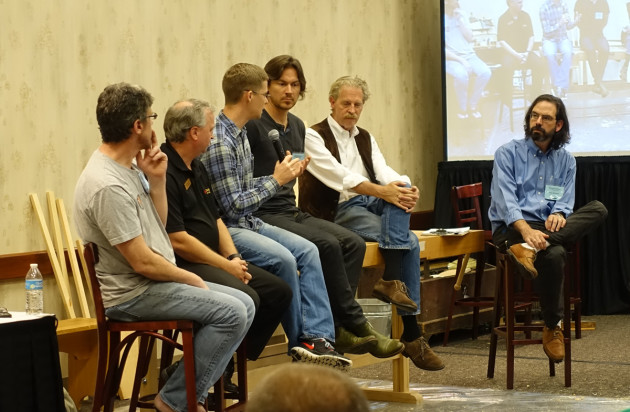 The 'Planemaker's Roundtable' was a panel discussion by noted toolmakers that was moderated by Chris Schwarz. The panel included (right to left) Thomas Lie-Nielsen, Konrad Sauer, Caleb James, Rick Blaiklock (Veritas Tools) and Raney Nelson. Topics of tool steel selection, notions of accuracy, pricing, user expectations and more were covered.
In addition to the conference program a 'marketplace' ran concurrently in another hall for the first two days. This featured some of the finest woodworking hand tool makers in the world. Thomas Lie-Nielsen, Veritas Tools, Ron Hock, Konrad Sauer, Chris Vesper (Vesper Tools), David Jeske (Blue Spruce Toolworks), Caleb James, Alan Walke and Aaron Moore (Walke Moore Tools), Juan Vergara, Lee Marshall (Knew Concepts), John Switzer (Black Bear Forge), Daniel Schwank (Red Rose Reproductions), Raney Nelson (Daed Toolworks) and Nick Dombrowski (Lake Erie Toolworks) were just some of those who displayed their tools and were on hand to talk to.
Our December issue will contain a related story that focuses on some of the woodworkers best known in the USA and globally via social media. Future issues of the magazine and website news will feature some of the influential and innovative toolmakers mentioned above.
The gallery above shows a selection of photos taken at this year's event. Click on the images for a larger view and to read captions. More information from www.woodworkinginamerica.com and www.popularwoodworking.com