Last chance to catch a Chris Pouncy turning demonstration

Above: Chris Pouncy demonstrating at the Blackall Range Woodcrafters Guild clubrooms.
Yesterday, July 2, 2019 the Blackall Range Woodcrafters Guild played host to renowned English woodturner, Chris Pouncy. Chris is touring and demonstrating as a part of the Robert Sorby 2019 Tour in conjunction with Carbatec.
According to BRWG publicity officer John Andrews, Chris's three hour long demonstration was packed with useful information and handy hints. The session was well attended by more than 30 woodworkers including those from other clubs. The demonstration included faceplate turning and spindle turning.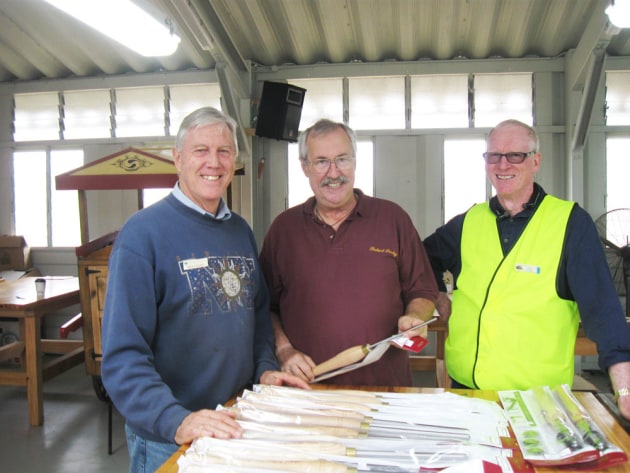 Chris Pouncy in the centre with woodworker Rick Vickers (left) and BRWG Vice President Greg McCosker.
On this last Queensland leg of Chris's extensive tour throughout Australia there are two more opportunities to learn from him: today, July 3 at Bayside Woodturners and Woodcrafters (10am – 1pm) and tomorrow July 4 at Ipswich Woodcraft Club from 10am to 1pm.
More information from Carbatec, see www.carbatec.com.au/robert-sorby-tour-2019