Australian owned and run, Lucas portable sawmills celebrate 25 years
Established in 1994, Lucas Mill is a family owned and operated business. The factory originated in a small farm shed on a sheep property nestled within the native stringybark and red box trees in a locality called Wooragee. With low expectations, it came as a welcome surprise that orders for over 50 machines were placed in the first month of manufacturing – a quantity the Lucas family would have welcomed as a typical annual output.
Initially the company specialised in manufacturing the model 6 sawmill with a 6¼" cut until early 1996 when a model 8 was launched capable of cutting 8½" and powered by a 20HP engine.
Field day demonstration of current style Lucas Portable Sawmill at Wooragee, Victoria, the birthplace of the company.
In 1996 Lucas Mill manufactured the first dedicated slabber, a machine specifically designed for cutting timber slabs. The electrically powered swing blade sawmill was the next addition to the range in 1998 powered by a three-phase electric motor. Lucas portable sawmills continued to grow over the next 21 years with five different circular swing-blade machines now available, from 6¼" model up to the versatile 10" model. Optional attachments are available for each model including slabbing, planing, sanding and weatherboard.
March 2019 represents Lucas Mill's 25th anniversary in manufacturing their popular and proven portable sawmills. A testament to this is the fact that the first Lucas portable swing blade sawmill ever made, a model 6 is still operating 25 years later.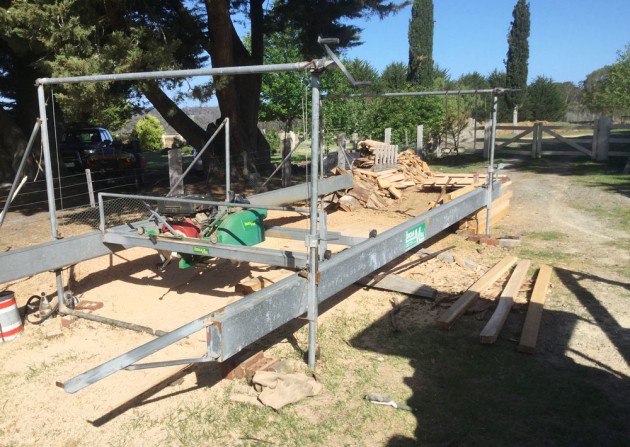 Shown above: The original style mill manufactured in1994 with the cable end-frames and steel tracks. Photo courtesy of mill owner James Eagleson, photo taken at Toorloo Arm via Lakes Entrance, Victoria.
The Lucas Portable Sawmill can be transported to almost any location and set up to selectively harvest timber with minimal impact to the surrounding environment. Whether your project is cutting timber for private fencing, building or furniture making, hobbyist or if you are a sub-contractor, there is no doubt that there is a strong demand for a quality Australian made product such as the Lucas Mill.
To date over 18,500 Lucas Mill portable sawmills have been sold into more than 100 different countries around the world.
To learn more about the Lucas Mill phone: 03 5728 7283, email: admin@lucasmill.com.au and visit www.lucasmill.com